Welcome to the 2nd CEP Course on Magnetic Resonance Imaging to be conducted at IIT Bombay during JUNE 20th- 24th ,2011. MRI technology and applications have advanced tremendously over the last few decades. Keeping this in mind, Indian Institute of Technology Bombay, Mumbai presents a one-of-its-kind MRI course in India. The uniqueness of this course is that it addresses engineers, students, doctors, technicians and application specialists on one platform. The course covers all facets of MRI, giving the target audience a never before opportunity to gain in-depth knowledge of MRI techniques and its applications.
Our course faculty includes
* Experienced Professors and Researchers from IIT Bombay will teach basic techniques and recent advances in MRI.
* Radiologists from leading hospitals in the country will explain various clinical aspects of MRI.
* Application specialists from internationally renowned Imaging Industries will demonstrate 'tricks' for striking a balance between image qualities and imaging time.


MRI 2011 IS A FULL FIVE DAY COURSE WHICH INCLUDES

1. Plenary Lectures.
2. Parallel Sessions.
3. Tutorial/Demo Session.
4. Visits to relevant labs in IIT Bombay campus.
5. Visit to the imaging centre of a leading Mumbai hospital.

SPECIAL TWO DAY COURSE FOR RADIOLOGISTS

For those Radiologists who are unable to attend the full five day course, a special two day course is offered.


VENUE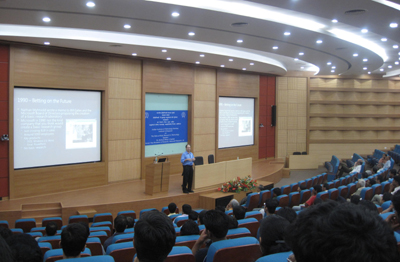 Victor Menezes Convention Centre (VMCC), IIT Bombay, Powai, Mumbai –76.